I don't measure, soooo In a large mixing bowl combine  Minced garlic Parmesan cheese Cross black pepper Kosher salt Fennel Italian seasoning A litt...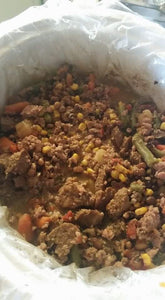 This cold weather stew is simple   1 lb of ground beef 1 lb of breakfast sausage 1 chopped onion and cut top 1 can of every vegetable you like 1 ...
Enchilada casserole in the instapot is a favorite here.   Brown 1-2 lbs ofbof ground beef, salt and pepper to taste Mix ground beef, refried beans...